Pro Staff
Please feel free to contact any member of our pro-staff as they test all of our products and are on the water every day!

Madison Guide Service
Why Madison Wisconsin Musky Fishing Guide Service?



21 Years Guiding Experience on the Madison Chain of Lakes in Wisconsin and am a
Full-Time
Guide. When you choose a guide always pick one that is a
full-time
guide so you can be assured they are always on fish

Only Madison Guide with muskys over 50" (4) 52", 52", 50.5" and 50.25" On the Madison Chain of lakes. Fully Insured and Licensed Wisconsin Guide. 2015 Muskies Inc. International Release Champion with 180 Musky caught and released

Jeff is an active member of our local Madison Wisconsin Muskies Inc. Chapter (Capital City Chapter) since 1993 and have been a Muskie School Instructor the last 14years Instructor for Musky Road Rules clinics and schools with Tony Grant and Gregg Thomas.
Also,
featured in Greggs 2011 Musky Road Rules DVD Frequent guest on Outdoor Horizons morning radio show with Gary Engberg and Tony Puccio

Written articles for Musky Hunter Magazine Wrote a Chapter
in
Musky Hunters New Book for 2016 '25 Can't Miss Musky Patterns' I have 14 entries in the Century Club (100+ fish in a season) I have been the Men's Masters Division Champion 15 times. Was moved to Distinguished
master's
division in 2012.

I was also the Muskies Inc. International Release Champion for 2002, 2004, 2006,2010,2011,2014 second place in 2009 and 2013 and 3rd for 2012. Also in 2009, my partner and I were honored to win the IMTT Tournament on Lake Monona. 2nd Place IMTT 2011 Monona 3rd place 2011 IMTT Waubesa. 2014 Lake St. Clair Annual Musky Bash Tournament Champion with a 55 3/8" Currently 3rd place all time in Muskies Inc. International with over 2880 Musky caught and released Have given seminars on Musky fishing all over the Midwest at Musky clubs, Musky shows and retailers.

Website:
www.madisonmuskyguide.com

Email: musky@tds.net
Phone: (608) 848-3906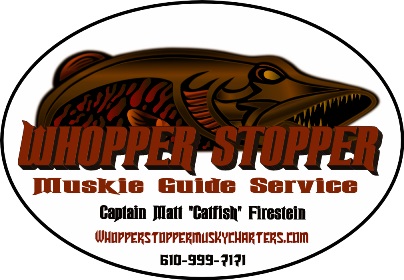 Whopper Stopper Muskie Charters

Whopper Stopper Musky Charters specializes in one thing, catching and releasing Big muskies on Lake St. Clair. With years of experience on the lake and success using the most productive tactics across the Musky region in North America., Whopper Stopper Musky Charters will put you in the right areas while running the best baits to insure a great time with the best opportunity to hammer on some big muskies! Lake St. Clair is a large body of water – Some call it the 6th Great Lake. Our dock is centrally located so we can access any area as quickly as possible to get on the fish! Captain Matt has been fishing muskies since 1993 and specializing on Lake St. Clair since 1999.
Phone (610) 999-7171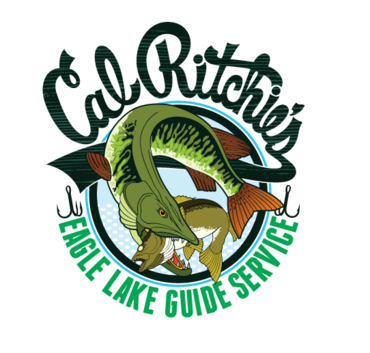 Eagle lake Guide Service
Cal Ritchie has a well-deserved reputation of being on one of the top fishing guides on Eagle Lake and the surrounding area. He has lived in the Vermilion Bay, Eagle Lake area of Northwest Ontario for almost 25 years guiding and educating anglers both young and old. Over 15 of those years Cal worked at the legendary Andy Myers Resort. He has guided many of the top TV personalities including John Gillespie from Wisconsin's Waters & Woods.


As a professional guide, Cal has often spent 6 to 7 days a week on the water over the course of a season. After two decades of fishing for Walleye, Smallmouth Bass, Lake Trout, Northern Pike & Muskie, Cal has earned the merit of a true professional multi-species fishing expert. That is the reason why many anglers, novice to expert, have looked to Cal for his expertise while fishing Eagle Lake and many other similar bodies of water.

North Shore Lodge
This is a great muskie camp on Eagle Lake. The owners are high energy fisherman, there to make sure you are satisfied. This is a quiet camp with little to no drama. You wont find flashy boats and sponsored banners all over camp, just a rustic feel. The camp is located right across the bay from where the past world record fish was caught. Scott Will not disappoint you. Find us at
Website: www.northshorelodge.ca
Email: scott@northshorelodge.ca
Phone: 1-800-976-9779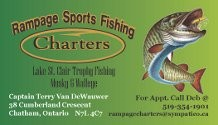 Rampage Sports Fishing Charters
Captain Terry VanDeWauwer of Rampage Sports Fishing Charters has guided the great lakes his entire life. Musky fishing in Lake St. Clair became his passion in the early 90's and after he retired he started guiding full time in 2005. We are docked at the Cove Marina in the village of Lighthouse Cove mouth of the Thames River on the Canadian Side. We are approx 45 minutes from the Ambassador Bridge. We are trolling for Musky out of a 30 ft. Rampage Offshore that is fully equipped, insured and licensed through Transport Canada. We have placed numerous times in Musky tournaments throughout the years on Lake St. Clair and have caught 1000's of average size Muskies and many trophy Muskies. Our objective is to make your day fishing with us fun and memorable.
Bret Alexander
Bret Alexander, as the owner and operator of Alexander Sport Fishing Guide Service and Ice Fish Green Bay Guide Service, he takes pride in his businesses and the success of his customers. Bret has more than thirty years of experience fishing the waters of Northeast Wisconsin. Driven by the passion to help his customers experience some of the best fishing Wisconsin has to offer, Bret insures that the needs of his customers are met on every trip. With an intimate knowledge of the Bay of Green Bay, the Fox, Peshtigo, and Menominee Rivers and the surrounding waters, Bret has multiple bites dialed-in at any given time, for several different species of fish. Working with a network of guides, Bret knows where the bite is hot even before the day begins. Bret excels at teaching new techniques to novice and expert anglers alike. He welcomes the opportunity to share his experiences with others and to continue to build his field of knowledge each day.

For more information on Bret Alexander you can visit one of his websites at:
balex911@aol.com
www.icefishgreenbay.com
www.alexandersportfishing.com
www.muskyfishgreenbay.com
Kyle Tokarskie
Captain Kyle Tokarski grew up in Central Wisconsin and after school he would bike down to the Wisconsin river to fish for muskies any chance he could get. By the time he was 6 he could cast a bait caster like a pro and as soon as he was able to drive.......he was gone fishing. Kyle covered musky ranges from Green Bay through NW Wisconsin and into Minnesota.

His heart was in Green Bay so he settled in to chase his dream to be a fishing guide.

After his 3rd year on the Bay he decided to offer his services through Alexander sport fishing.